Information for participants
Accommodation before and after the race
We have been in contact with Skanderborg Danhostel, who are ready with great options for accommodation along with the additional options Danhostel is known for.

See more about Danhostel Skanderborg: www.skanderborg-danhostel.dk
Contact Danhostel Skanderborg: info@skanderborg-danhostel.dk
Write an e-mail with ¨Skanderborg Ultrarun¨ in the subject line, or mention it to Pernille on the phone, and she will take special care for you.
There are several parking spots around the race area.
Please see the places marked on the map below and be aware of the area that is marked as a drop zone for equipment.
Make sure not to park illegally. Skanderborg Ultra cannot in any way be responsible for any tickets given.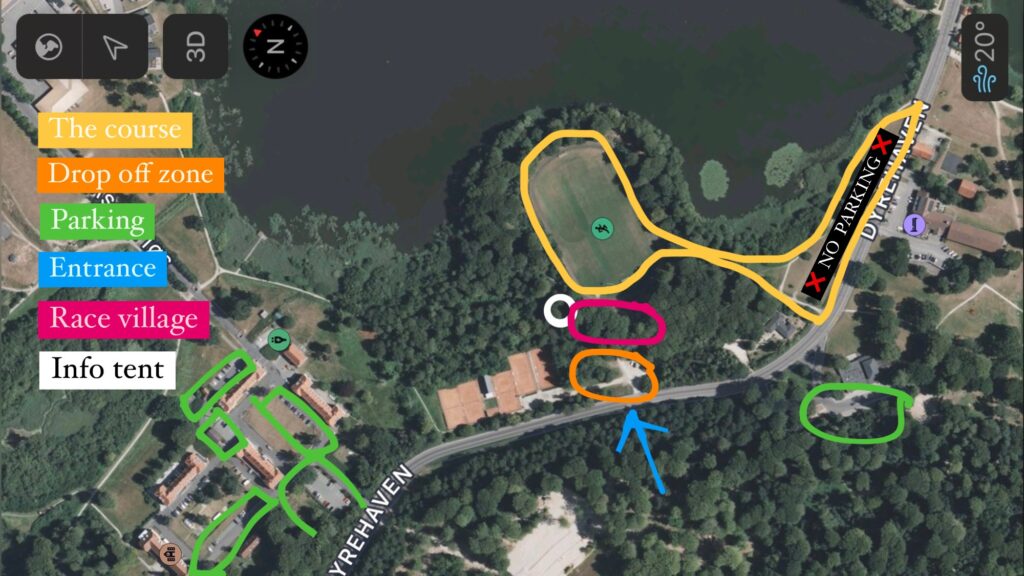 Pre race briefing
Each race will have a briefing in front of the information tent 45 min. prior to the specific race start, where Casper Poulsen will provide instructions and information about the race.

Times for each runner
48 hour race: Friday 11:30 AM
24 hour race: Saturday 11:30 AM
12 hour race: Saturday 11.30 PM

It is important that you are present at the briefing concerning your race.
Information tent
When arriving at the race, make sure to visit the information tent in order to get your race number and chip, running assistent nr., a plan for the race, goodie bag (incl. t-shirt if you ordered this) as well as your assigned rest/camping area.
It's important that you DO NOT SET UP CAMP BEFORE BEING ASSIGNED A SPOT.
You find the information tent by the entrance in the south-western corner.
See where the information tent is marked on the map.
Opening hours for the information tent:
Thursday: 17.10.24: 8AM – 18PM
Friday: 18.10.24: 8 AM -11AM and 2 PM – 18 PM
Saturday: 19.10.24: 8AM-11AM and 18PM-11PM
If you have questions outside opening hours, please reach out to one of our officials.
They will be present during the race and you can spot them on the logo at the back.
Tents and resting areas
Each running group (48h runner, 24h runner and 12h runners) will have access to an area with a big tent, where they will get an assigned spot according to their given race nr. where they can set up a folding chair 
In addition, 48h and 24h runners will also be assigned a spot where they can set up their tent, in case they want to sleep during the race.
In each base/group areas it will be possible to get provisions like snacks, chips, water and other products.
Food during the race
The main meals, breakfast, supper and dinner, is the runners own responsibility.
However, the race director or helpers can assist you in getting food brought to the field in case you need it. However, we do recommend that you plan your meals and prepare these prior to the race in order to ensure you get the optimal nutrients for your race.
Meals included in the price:
18.10.24 – 00.00-04.00 Minestrone Soup with chicken
19.10.24 – 00.00-04.00 Minestrone Soup with chicken
20.10.24 – 06.00-14.00 Pancakes

Furthermore, runners have access to water, snacks, fruit and coffee during the race. 
Runner assistants 
Runner assistant will get soup and pancakes, as well as water coffee and snacks during the race. It is important that the assistant has been added during signup and gets their assistant nr. upon arrival at the Information tent.
If you wish to add an assistant, please write to info@skanderborgultra.dk with a request.
This request must be received BEFORE 12 AM THURSDAY THE 19TH OF OCTOBER.
Saturday from 11 AM  to 8PM and Sunday from 8AM to 3PM it will be possible to buy sausages and bread at the race village where the spectators and supporters can watch the race.
Race Village
The race will include a race village where spectators can stop by, watch the race, get something to eat and make donations to Veteran Kortet if they please.
There will be music from 10AM – 8PM.
Sport24 will set up a shop where it's possible to buy running clothes at a discount.
Moving Feet will set up a shop selling running shoes, and will set up a shop where it will be possible to buy HOKA running shoes at a discount.
Saturday from 11 AM  to 8PM and Sunday from 8AM to 3PM you will find a grill area preparing food at a low price, where all payment goes straight to Veteran Kortet.
Race end
Skanderborg Ultra ends Sunday the 20 of October 2024 at 12AM,
Around 11:45 AM each runner will be handed a stick to be placed in the ground at the end of the race. This is used for exact measurement of each runner's distance.

Please stay by your spot, or have your runner assistant stay by your spot until the staff responsible for measuring has noted your distance.
Prizes and celebrations will be at around 12.30 PM, starting with 48 hour runners, following the 24 hours and lastly the 12 hour runners.
Post Race 
Please clean up your camp area and make sure to use the garbage bins set up in the area. We will leave the green area as it was when we arrived.
The main building will be open for runners who wish to take a shower. The building holds common locker rooms that are marked male and female.